UKGarage.org 2011 Year Mix – Mixed by MileZ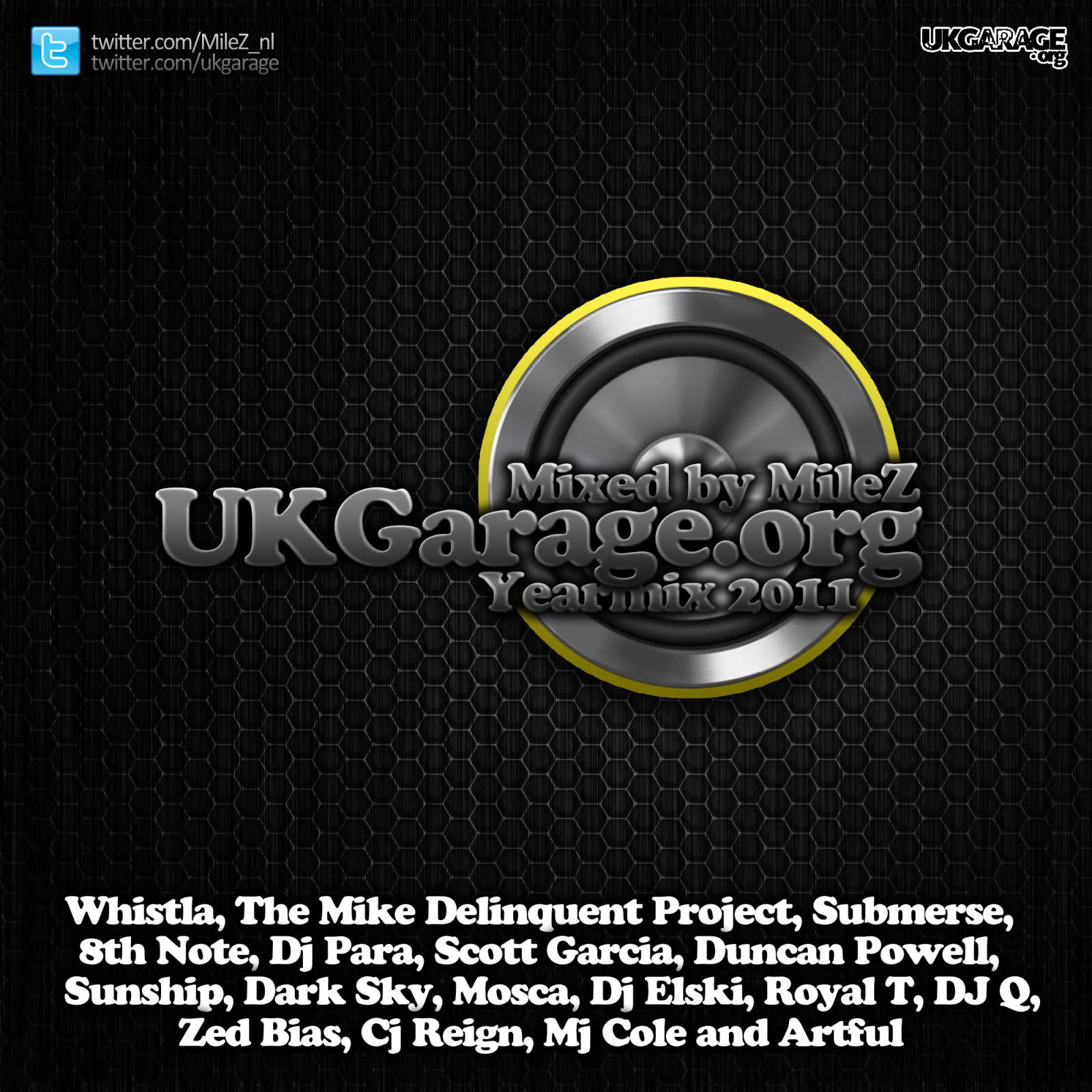 2011 has been a big year for UKG with some serious bangers getting released from the likes of Mike Delinquent Project, Club Asylum, Duncan Powell, MJ Cole, Kronik Records and the 42TF Recordings camp. There is no denying that UKG has had a good year and all the signs are pointing to 2012 being even bigger!
This is our first annual year mix mixed by DJ Milez, showcasing 51 of the years top tunes.
001 Intro
002 Duncan Powell - Love Is Hard
003 The Hylu & Boogaloo Crew ft. Zico - Vibe
004 Artful Mark ft. Kal Lavelle - Could Just Be The Bassline (Artofficial Club mix)
005 Dark0 - HYLI
006 Club Asylum - Dirty Room (Dirty Dub)
007 Maribou State - Take Another Look
008 Whistla - Pillowtalk (Duncan Powell remix)
009 Shag Productionz ft. Jay Dizzle & Adz - Creepin (8th Note Dub remix)
010 Jessie J - Who You Are (Exemen remix)
011 Katy B - Broker Record (Todd Edwards' Angel Voice remix)
012 8th Note - Together With The Sun
013 F1D - Jumpin'
014 Duncan Powell - Pushin
015 Black Ice - I Am Here (Artful Retouch)
016 Dark Sky - Neon
017 S.K.T ft. Daniel E Walker - Dejavu (S.K.T UKG mix)
018 Wretch 32 - Traktor (Mike Delinquent Project remix)
019 Club Asylum vs. Sirens ft. MC PSG - Good Enough (Dub remix)
020 Phonetix ft. Harsh - Why
021 Jay Harvey ft. Special - Anywhere (2step remix)
022 Adele - Someone Like You (Atomic 2 Step Vocal mix)
023 Fugative ft. Wiley & Mz Bratt - Go Hard (The Mike Delinquent Project remix)
024 Wretch 32 - Don't Go (Mj Cole remix)
025 CJ Reign - Rockin' Groovin'
026 Leanne Louise - Crazy (RDubz remix)
027 Wideboys - Shopaholic (Future Garage remix)
028 LMFAO - Party Rock Anthem (MileZ remix)
029 The Mike Delinquent Project ft. KCat - Out Of Control
030 Wiz Khalifa - Black And Yellow (Mystic Matt remix)
031 Maverick Sabre - Let Me Go (Mike Delinquent remix)
032 Mosca - Bax
033 Lana Del Rey - Video Games (Dj Elski & 8th Note remix)
034 Skream ft. Sam Frank - Where You Should Be (Zed Bias remix)
035 Scott Garcia - FUTURE GARAGE
036 Impact - The Coleless Train
037 Ms Dynamite - Neva Soft (The Mike Delinquent Project remix)
038 DJ Para - Tell Me
039 TRC - Oo Aa Ee (Royal T I <3 Garage remix)
040 Submerse & Resketch - 2nite
041 Zed Bias ft. Jenna G - Fair Play (Zed Bias Old Skool remix)
042 Six D - Best Damn Night (Sunship remix)
043 Orange Hill - Wine De Best (Zed Bias UKG Vocal mix)
044 Bluey Robinson - Showgirl (Sticky & Scott Garcia remix)
045 Price - Knock Me Down (2 step mix)
046 Submerse & Resketch - Get Away
047 Toddla T ft. Shola Ama - Take It Back (DJ Q Mix)
048 Phase 180 - Fingers (K-Warren UKG mix)
049 Redlight - Source 16
050 Fudge - Be Your Man (Dubble Step remix)
051 Roses Gabor - Spend Is Dough (Royal T remix)
Follow @milez_nl on twitter